This online catalog does not represent everything that our store carries. Please contact your nearest location if you don't find what you are looking for.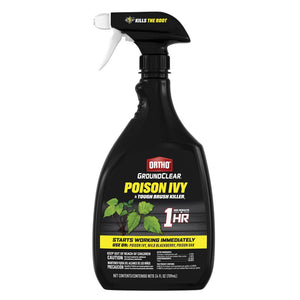 Scotts Ortho® Groundclear® Poison Ivy & Tough Brush Killer 24 oz
---
---
Take out tough weeds with Ortho® GroundClear® Poison Ivy & Tough Brush Killer3. This ready-to-use weed killer controls over 60 listed tough weeds and brush right down to the root, including poison ivy, poison oak, kudzu, and wild blackberry. The formula starts working immediately to produce visible results in 1 hour. To apply, thoroughly wet weed foliage, stems, or trunk. Apply when weeds are leafed out and actively growing. For best results, apply to mature leaves. Ortho® GroundClear® Poison Ivy & Tough Brush Killer3 is for use in non-garden areas around homes, cabins, buildings, fences, and trails. Do not spray plants or grasses you like - they may die too. Rain or watering 2 hours after application will not reduce effectiveness. Weeds will begin to turn brown within 1 hour. Wilting or other symptoms up to and including complete root kill will occur in 2 to 6 weeks. Hard to kill weeds may require retreatment if regrowth occurs.
Ortho® GroundClear® Poison Ivy & Tough Brush Killer3 is a ready-to-use weed killer that controls over 60 listed tough weeds and brush, including poison ivy, poison oak, kudzu, and wild blackberry
Fast-acting formula starts working immediately, producing visible results in 1 hour
This weed control works systemically killing weeds right down to the root
Apply this herbicide to leafed out and actively growing weeds in non-garden areas around homes, cabins, buildings, fences, and trails
Allow 28 days between applications; hard to kill weeds (such as Poison Oak, Poison Ivy, Blackberries, and Honeysuckle) may require retreatment if regrowth occurs
---
We Also Recommend
---