This online catalog does not represent everything that our store carries. Please contact your nearest location if you don't find what you are looking for.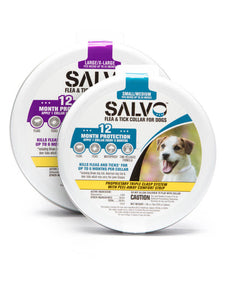 Salvo Flea & Tick Collar for Dogs
---
---
FLEAS: Kills on contact so fleas don't have to bite your dog
TICKS: 3 species of ticks including Deer ticks, American dog ticks and brown dog ticks
WATERPROOF: Continuous protection even after bathing
LONG-LASTING: Time released technology for continuous protection
Description
Salvo® Flea & Tick Collar protects dogs against fleas and ticks for up to 6 months. Our improved formulation kills fleas on contact and is effective against three species of Ticks, Deer Ticks, American Dog Ticks, and Brown Dog Ticks. The collar is odorless and long-lasting. Each tin contains two individually packed and sealed collars. Each collar provides continuous protection for up to six months, giving you twelve months coverage with each purchase. The Salvo collar is water-resistant and remains effective following a bath, swimming or after exposure to rain or sunlight. The Peel-Away comfort strip provides a smooth surface to minimize irritation, and the proprietary triple clasp system ensures collar stays engaged in the most demanding situations.
Compare to Scalibor® Protector Band.
---
We Also Recommend
---