This online catalog does not represent everything that our store carries. Please contact your nearest location if you don't find what you are looking for.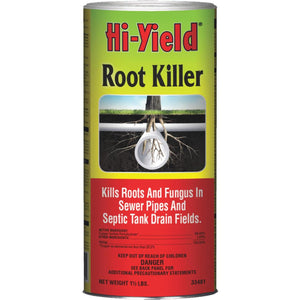 Hi-Yield 1-1/2 Lb. Granular Root Killer
---
---
Formulated to quickly and economically kill and dissolve fungus and roots from trees and shrubs that have entered the sewer line, septic tank, and drain fields. Will not harm trees, shrubs, sewer, or drain pipes. Apply 1/3 of container crystals into toilet bowl flushing repeatedly until all crystals are gone. Repeat every 3 to 4 months. Formulation: Copper Sulfate. 1-1/2 lb.
---
We Also Recommend
---