This online catalog does not represent everything that our store carries. Please contact your nearest location if you don't find what you are looking for.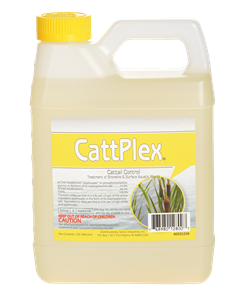 CATT PLEX Pond Weed Killer
---
---
AQUATIC HERBICIDE- GLYPHOSATE
Catt Plex isn't just a cattail killer.  This concentrated aquatic herbicide kills cattails, water lilies, and other shore/emerged aquatic weeds while still being safe for fish.  Catt Plex is a contact herbicide that should be applied by spray application.  This glyphosate based herbicide kills emerged pond weeds to the root. It can also be an effective turf solution for controlling over 1000 troublesome grasses and broadleaf weeds.
Works with turf, eliminating unwanted grasses and broadleaf weeds
100% safe for humans, fish, livestock, pets, birds, swimming, consumption and irrigation
Consists of 53.8% glyphosate
Mix 2oz per gallon to make 1 1/2 % solution
This product must be used with Plex Mate for best results
For more information about Catt Plex see our Frequently Asked Questions
---
We Also Recommend
---